"Priceless!"
I have hunted in Alaska a few times and went on three guided hunts in the states but nothing compares to hunting with Jesse Grady in Alaska. This was the second time that I hunted with Jesse, the first was as a guided client in 2019 and I returned this year for a DIY moose hunt. I also brought my son along so that he could harvest a black bear.
The service that Jesse provided was great! His attention to detail of hunt logistics, transport, care of game, field preparedness, equipment, safety, regulations & camaraderie were all top-notch and comes natural to Jesse. It is easy to see that Jesse knows the hunting area very well and his knowledge of how to operate and hunt in the area is profound. He knows exactly where, when and how to hunt for the various species in the area. This is a result of having lived in the area since he was a young man, working, hunting and trapping as a way of life in the bush.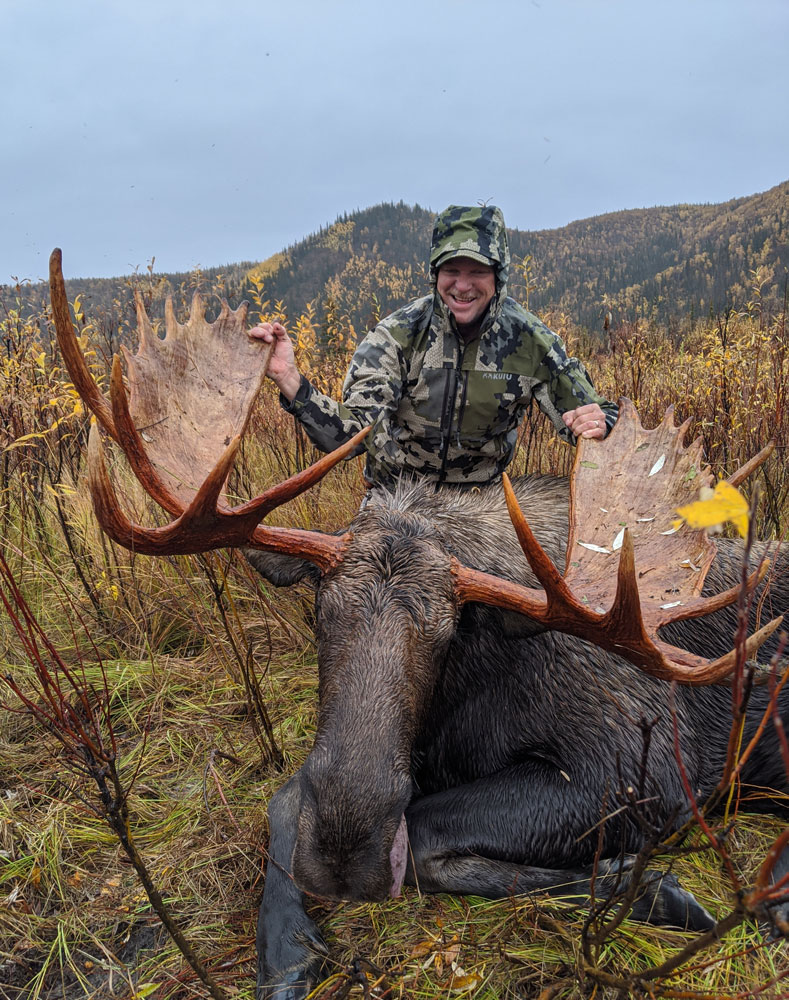 The hunting area is vast and full of game and we never bumped into other hunters. I have hunted enough to know that there are never any guarantees- hunting means putting in time in the field. We did that and were rewarded with several opportunities for moose and black bear.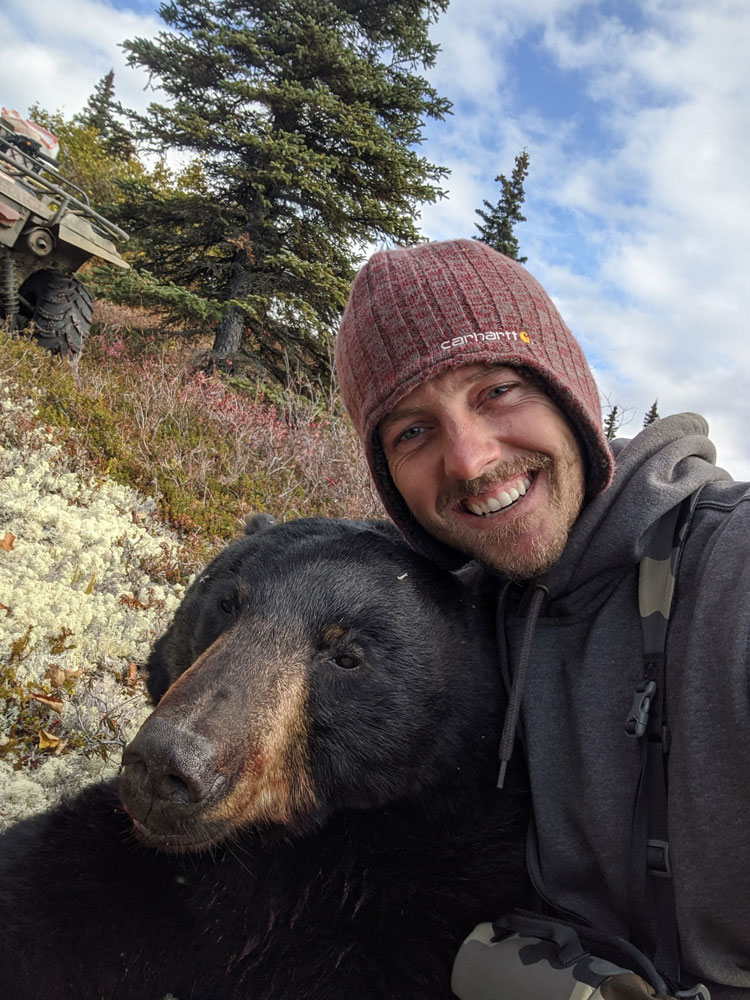 All this is summed up in a fantastic hunt that I got to share with my son. I got a great bull on my second day! After I got my bull we spent time in the hills hunting for a black bear for my son. We saw anywhere from 3 to 8 bears a day. After a few days my son decided on a bear so we stalked to 200 yards of him but then passed. Three days later my son decided on another bear. We stalked to within 25 yards! Bear down. I am so thankful to Jesse for the hunt and I got to spend it with my son…Priceless!
John and JD Sikema – California
"I still can't believe we were eating so well that far in the middle of nowhere."
Having gone on three Alaskan moose hunts with three different outfitters and transporters, both of us can say without hesitation that our experience with Epic Alaska was the best.
The supplied gear was top notch. The jet-boat that we used allowed us to run the river for miles away from our camp each day to hunt for moose and it was a blast! The wall tent and wood stove was warm and comfortable and was nice to crawl into after a long day of hunting along the river.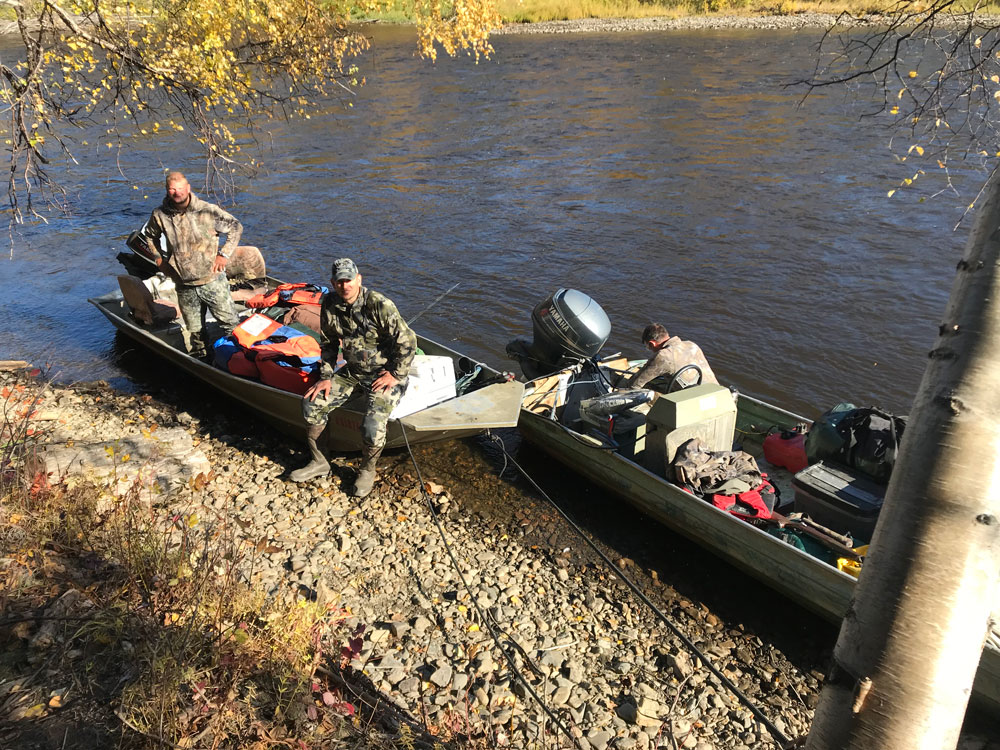 The food that was supplied was amazing! I still can't believe we were eating so well that far in the middle of nowhere. We had plenty to eat with food to spare. The optional smoked meat package was excellent!!
Thank you for going the extra mile to make sure we had maps and knowledge of the area. We saw a lot of moose and other wildlife and my brother shot a great bull. We also appreciated the welcoming hospitality you showed us throughout our trip.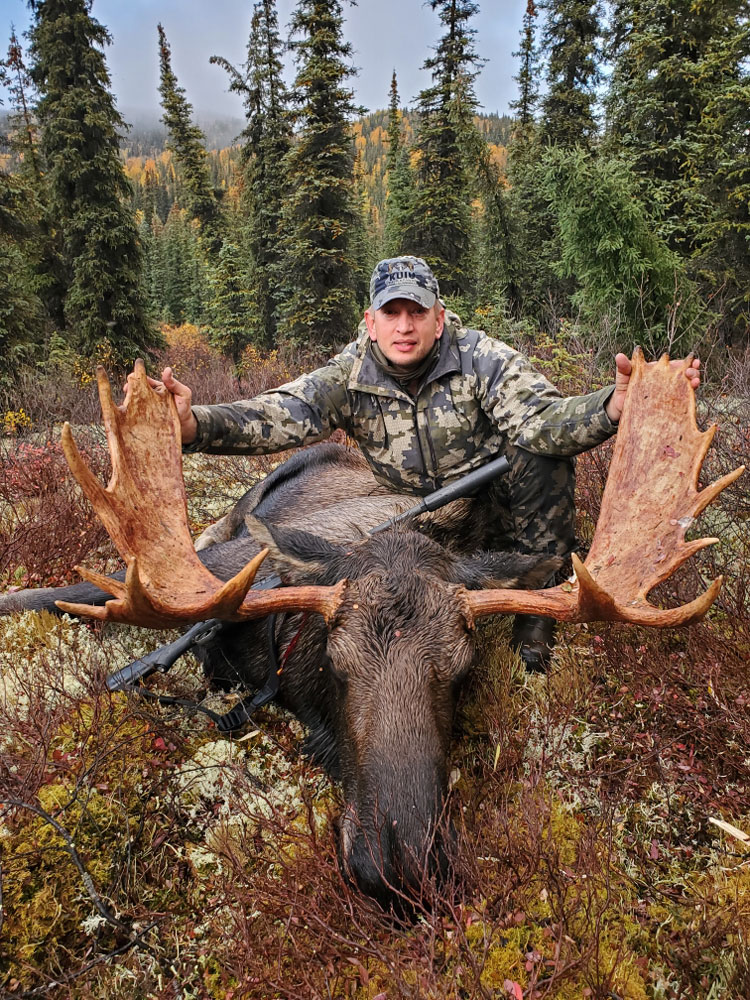 This was going to be my last moose trip for a long time, but after this hunt, I am already saving for another trip with Epic Alaska.
Thanks again!
Nathan and Lance Kaiser – Oregon
"…we never had a dull moment."
I helped Jesse during the 2020 hunt season with all of his operations at Epic Alaska. The first week Jesse spent each day teaching me how to operate a jet-boat in extremely shallow water. I cannot explain how fun and rewarding that week was. The rivers and uplands in the area are simply breathtaking. There was so much game that we never had a dull moment. I can see why Jesse loves spending so much time in that remote area. Once hunting season began we started transporting clients and gear for their DIY hunts along the Innoko River and would return to pick them up at a later date to haul their gear, trophies and meat back to his main cabin. When we finally had a break from client obligations near the end of the season, Jesse took me hunting for a day so that we could get some moose meat for our families.
That month I listened to Jesse talk to his clients about how to call in moose, how to judge antler sizes, when and where to call and the most important: patience and waiting to shoot the big animals as close to the boat as possible! So we took a boat ride and parked the boat at a calm, sunlit spot on the river where Jesse initially utilized the "Sleeping Call" as he would describe it: 1) park the boat, 2) make some calls, 3) then take a nap! An hour later we heard a bull and cow in the timber behind us "Can't a guy get some sleep around here!" he yelled…haha! We called that bull out of the timber three separate times, where we would see him and then he would go back out in the woods. Jesse was patient and was looking at his antlers and the obvious high banks and sweepers would make packing out a pain so he wouldn't shoot. He told me "let's use the Moving Call" so we drifted around the bend to the opposite river bank to obtain clear shooting lanes. We ended up calling out that bull one last time and shot him 4ft from the river bank. He was a 3 x 3, 60" bull with a broken tine from fighting.
Now it was time for butchering. Jesse pulled out his chainsaw. I have never seen this done before. We took our time and made 4 separate quarters, leaving the hide on and making hand-holds to pack the quarters. We ended up having that bull in the boat within 45 minutes and I could not believe how effortless and clean the meat was. That large moose will feed both of our families all winter long.
What a month. It can only be described as Epic. I am planning on coming back to help Epic Alaska next year with the operations and I cannot wait to get back on the river again. Thank you for everything Jesse.
– Chris and Homer Stewart – Alaska
This was my first hunting trip to Alaska. It had been on my bucket list for some time. One of my buddies booked the trip and I thought this might be the hunt of a lifetime so I asked to tag along. Jesse provided us with the equipment to hunt moose on the Innoko River for 10 days. We set up camp on the bank of the river and we had access to a boat to troll with while there. The provided smoked meat was a hit, the scenery was fantastic and the country was rugged. Even though I did not harvest an animal I had a great time. When I find time to go up to Alaska to hunt for moose again, it will be with Epic Alaska.
Rob Stanfa – Tennessee
"…the service was top notch."
My group set up camp along the Innoko River on the 12th of September and called in a bull our first night from camp. After a week of rain and warm weather we were not able to get any more bulls to respond to our calls so we decided to move camp up into the highlands where we used ATV's to hunt. Two days later I killed my bull, 5 brow tines on one side 3 on the other. It was the first bull I've ever called in, shout out to Jesse for giving such good calling lessons before we left.
I previously used a transport service in northern Alaska for caribou cheaper but not nearly as good. This was the first time I've used Jesse's service and did not know what to expect but I was pleased with the information he provided and the service was top notch. The tents and equipment were in great condition and we had no problems with our boat or motor. The food that was provided was outstanding, the best I've ever had in the bush. Thanks Jesse for your hard work and nice to make another great friend in Alaska, I look forward to going again soon.
Randy Wagner – Colorado
"Epic Alaska is here to stay!"
I completely recommend anyone to do their next hunt with Jesse Grady and Epic Alaska! My partners and I had an unforgettable experience. From the moment we touched down at the local air strip, Jesse was there!
The hospitality and conversation was top notch. Jesse had everything in order for us to get out in the "Bush" and start hunting. Although I only went along as an observer, I took note of all the tools and equipment Jesse had prepared for my two hunting partners to use.
As an observer, I enjoyed the sights the most. Boating up and down the Innoko River, the Milky Way at night and even had an opportunity to observe the Northern Lights! Caught a few fish along the way as well!
I'm trying hard, but I just can't think of anything Jesse and his crew could have done better. Epic Alaska is here to stay! Our hunt was successful, and everything about his trip was a success in my book! Thanks again Jesse, would definitely hunt with you again!
Phillip Dooley – Colorado