CHOOSE YOUR
EPIC ALASKA ADVENTURE
Epic Alaska is a licensed Big Game Transporter and Class-A Assistant Guide:
Fully Guided One-on-One Hunts
Epic Alaska is not a Registered Guide. If you are interested in a Fully Guided Hunting Adventure with Epic Alaska, we will refer you to a Registered Guide that is licensed in our Hunting Area whom we will partner with to take you on your hunt.  A standard Fully Guided hunt is about ~10-12 days long and will focus on harvesting a single species such as Yukon Moose or Grizzly Bear. An incidental fee will be charged if the hunter harvests a secondary species during a single species guided hunt. This way the hunter is charged only for what they harvest.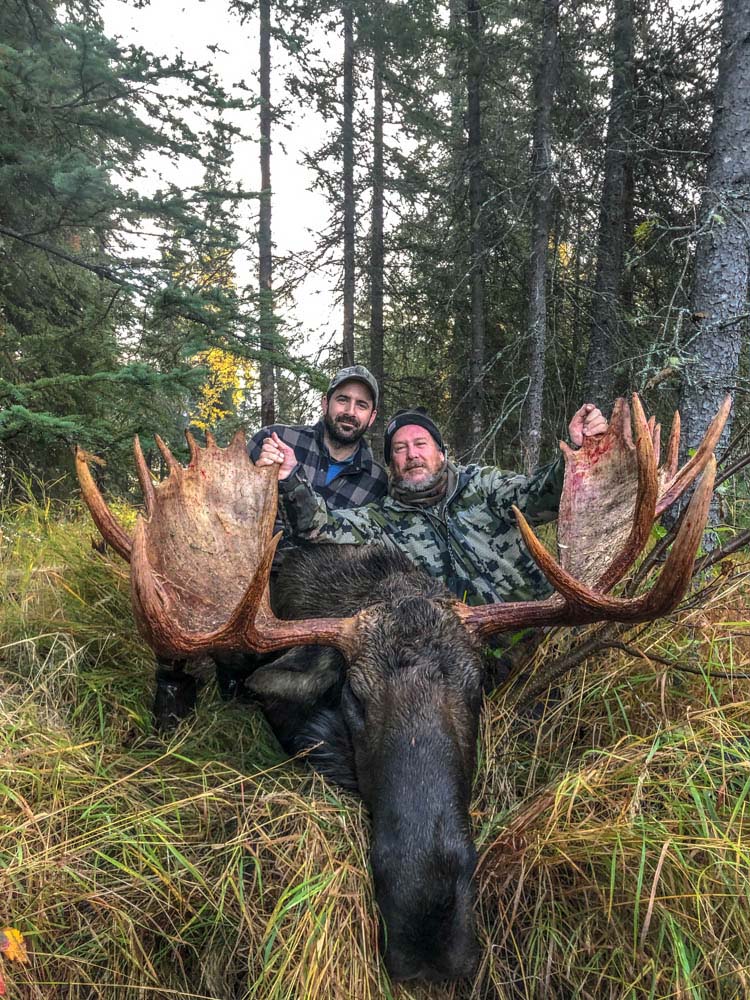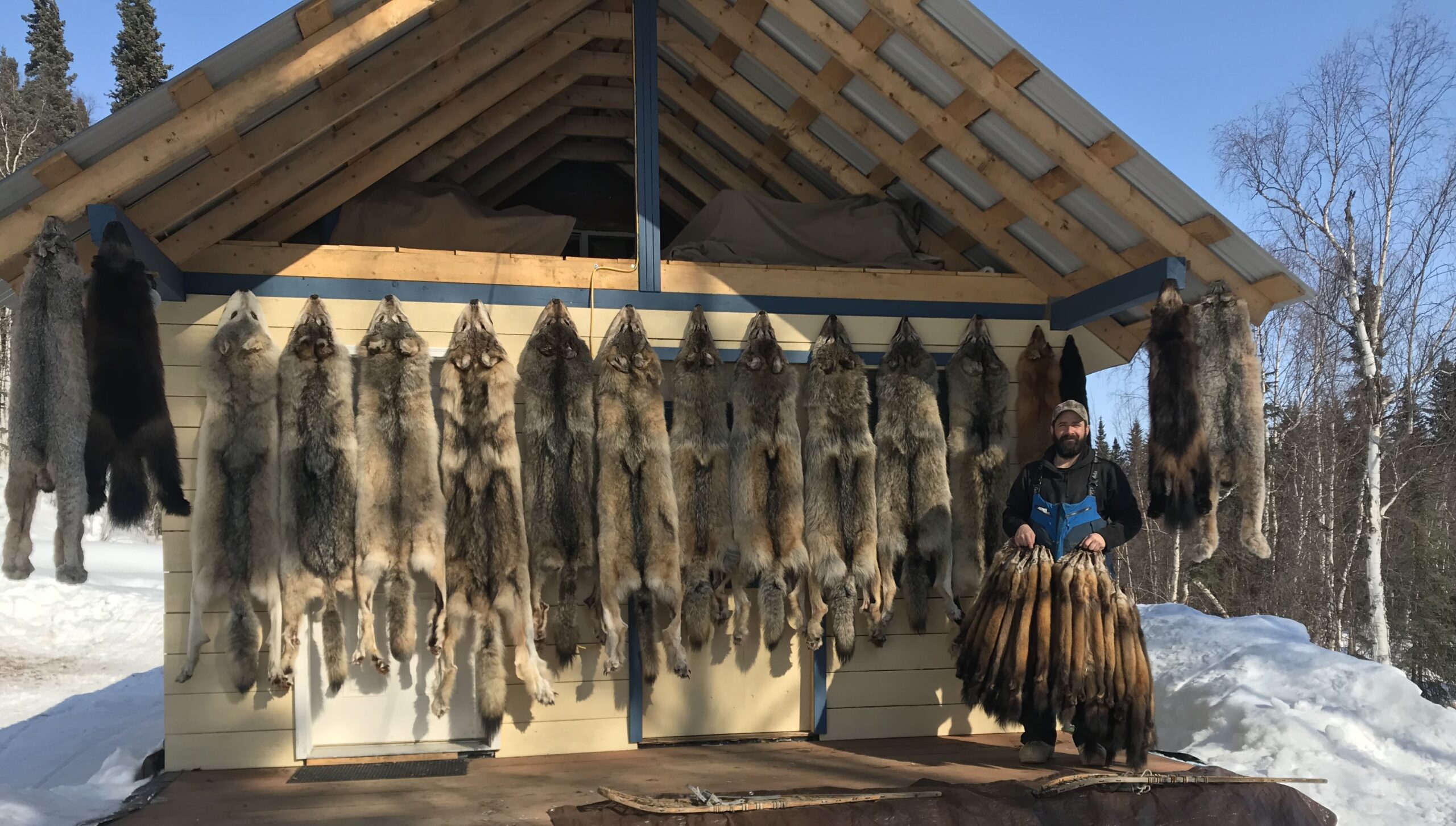 Remote Cabin & Winter Trapping
Winter Trapping for fur bearing species is probably one of the most challenging, exciting and rewarding experiences of all the Epic Alaska Adventures. It is by FAR more challenging then solo Moose or Bear hunting.
Snowmobiles are used to access 100's of miles of traplines that cross isolated mountain ranges, rivers and broad expanses of open tundra. We focus on trapping Pine Marten, Timber Wolf, Wolverine, Lynx, Fox and Beaver.
Trapping Season begins on November 1st to February 29th. Wolf Trapping begins on October 1st to 1st April 30th.

Access to all trapping areas is highly weather dependent and we generally begin setting traps after the ground and rivers freeze and there is a decent base of snow.
Animals tend to move during changes in weather, at cycles of the moon and are habitual so they keep returning to the same areas. By recognizing patterns of tracks in the snow we set traps in areas where we know the animals will return.
Typically we set out from our home base and return later the same day and can cover 50-75 miles round trip. When we want to extend our reach and venture out ~100 miles from our home base, we use cabins along the trail that give us a safe place to access between the most remote areas.
Trapping in the winter can be extremely dangerous at times and clients must be in decent shape and we prefer they know how to operate snowmobiles. We guide clients whom want to experience how to trap in Alaska or we can place you or your group at a location where you can trap alone along our lines.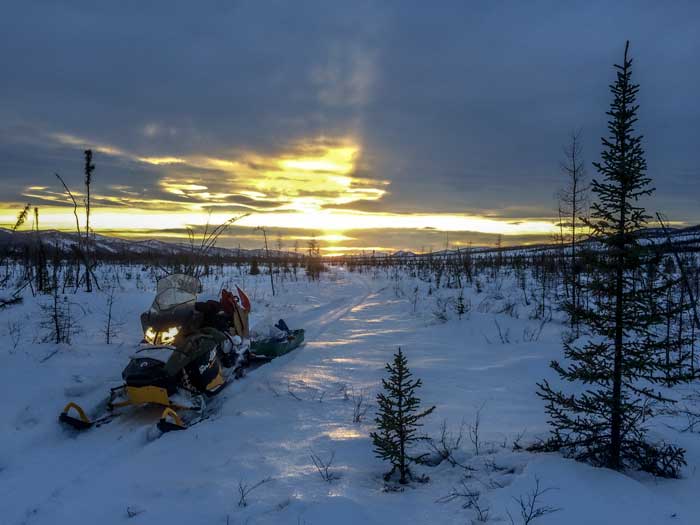 Guided Iditarod Trail Snowmobile Tours
This is one of the Most Epic Adventures. Period.
Our home base of Takotna is located at mile 410 of the Iditarod Trail that crosses the State of Alaska from Anchorage to Nome for a total of 1,049 miles.
We follow the dog teams along the trail with snowmobiles on either short day-trips to access safety cabins located every 50 miles or we tackle the entire distance from Takotna to the finish line at Nome for a total of ~600 miles!
The entire trip is not for the faint of heart, but we can plan a trip that will work for you and your group's abilities.
For more information on the Iditarod Sled Dog Race, please visit their home page at www.iditarod.com.
The Iditarod Sled Dog Race is a big deal for interior Alaska residents. Numerous news reporters, tourists and observers follow the mushers as they make their way to the finish of the Last Great Race at Nome.
In Takotna, the entire community volunteers to help the mushers as they pass through town. The dog teams (and the mushers) are situated for a well-deserved nap where there is an abundance of hot meals and pies available for the mushers.
For our trip, we typically will watch the lead mushers as they come through town for a few days and then venture out along the Iditarod Trail on snowmobiles. The entire trip to Nome will take anywhere from 4-6 days but even the shorter day-trips are some of the most rewarding experiences in Alaska.
Springtime in Alaska is one of the most beautiful times of year with good snow conditions, long daylight hours but with temperatures that can be as low at -40 below zero. Traveling on snowmobiles for any distance in these temperatures requires significant planning and serious warm gear.
Exclusive Epic Alaska
Single-Client Multi-Season Package
Our primary offering is an Exclusive Epic Alaska package where you will be the ONLY CLIENT for the entire year or around 90 days of guided one-on-one experience. This is THE Epic Alaskan Adventure that we call our way of life.
This trip will begin during the fall hunting season (September 1st to September 30th) where you will be contracted through a registered guide to hunt Yukon Moose, Black Bear, Grizzly Bear and Wolf. You will be our only hunting client to give you the best chance of observing multiple animals from each species so that you can harvest
Epic Trophies
.
You will return in the early portion of the winter trapping season to harvest Timber Wolves, Wolverine, Lynx, Red Fox and Pine Marten (November 20th to December 20th). A typical harvest during this time-frame are about 2-4 wolves, 1-2 wolverine, 1-lynx, 2-4 fox and 50-100 pine marten. You will learn to skin and prepare the hides for tanning and will keep all of the fur that we harvest in this time.
Lastly, you will return in the spring to close out our wolf trapping season and set wolf traps when snow conditions are ideal for venturing far off our normal traplines. During this time, we will also participate in the Iditarod Dog Race and track the race on snowmobiles all the way to Nome covering ~600 miles of Alaska (February 20th to March 20th).
This Epic Adventure must be booked at least two years in advance so that we can close our bookings to all other clients. At your discretion you can bring a single observer to accompany you on your hunts or multiple people to accompany you on your winter adventures!